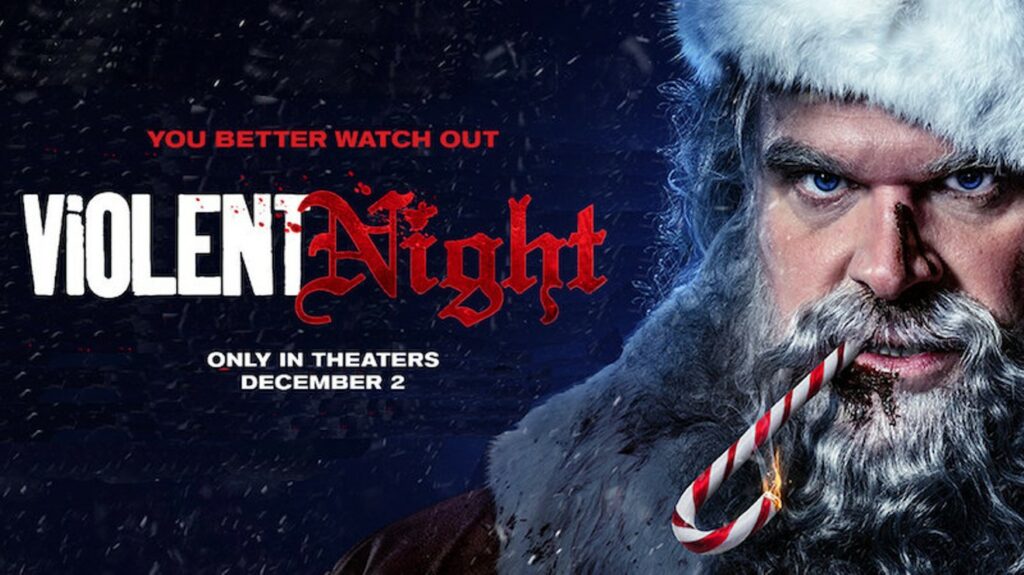 Arnie
In the spirit of the season I watched a couple Bruce Campbell movies. Black Friday (2021) stars Devon Sawa as a toy store employee, Bruce as his manager, trying to survive Black Friday while under attack by zombie-like, infected shoppers. On paper this should be a fun Night of the Creeps meets Superstore film…but, no. This movie was so bad I had a houseguest walk out without saying a word rather than continue this movie. Then, into the Christmas season…did you know Bruce did a Hallmark channel Christmas movie? It's called My Southern Family Christmas (2022) and it's worth a watch simply to debate which is worse–Campbell's "southern accent" or the scenes where he has to cry. Seriously, I've never seen a worse fake-cry on any screen, big or small. Southern Family Christmas is your standard Hallmark Christmas movie so if you like those, go give Bruce a watch.  Finally I had a very Violent Night (2022) with the new release film where Santa goes toe-to-toe with heavily armed robbers. This movie is more than a little Die Hard, but that works in its favor. Plus it really is a Christmas movie as the arcs center around the true meaning of Christmas. A recommend for Violent Night. The other two….not so much.
Brock
I enjoy a good musical, but in Spirited (2022) there are way too many unmotivated, unmemorable and unnecessary songs getting in the way of an interesting modern take on A Christmas Carol. Almost every song in this movie never adds insight to the characters we aren't already getting from the dialogue, and the momentum of the plot, story and humor grinds to a halt almost every time they sing.If they had one song in the middle, a big bright song and dance number, that would have been novel and added unexpected delight. Or perhaps keep the one at the end on the street, end the movie on a fun capper and see the stars sing and dance for the first time.
The dancing was great, I applaud the incredibly talented ensemble, they were fun to watch. Disappointing movie. Do not recommend.
Santiago
I finally saw Black Panther: Wakanda Forever (2022) and it was really good. I never expected to hit me as hard as it did, but I found it to be the most moving MCU film since Guardians 2. The acting was really good throughout, with Angela Bassett, Tenoch Huerta and Letitia Wright being the clear standouts. The cinematography and the constume and art design were also really great. The only complaints I had were Ironheart and the third act, neither of those two were particularly interesting. Overall I give it a strong recommend.