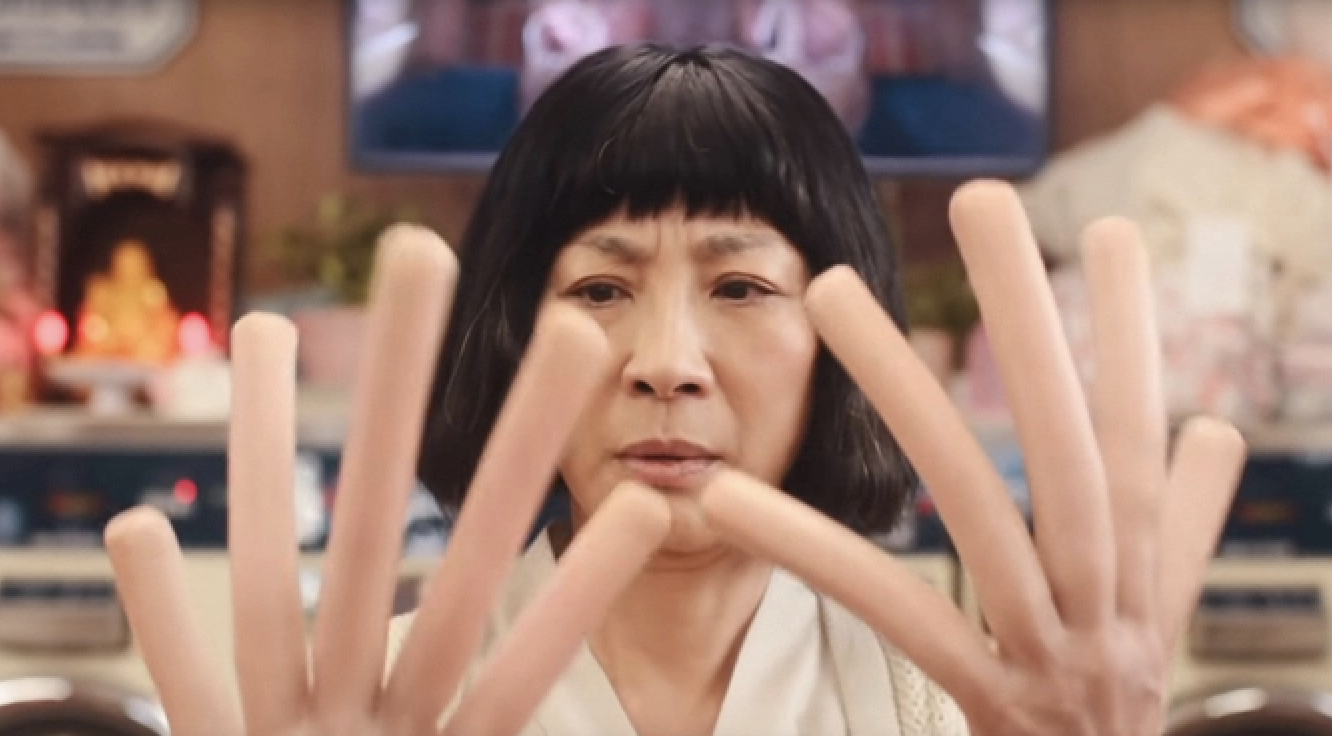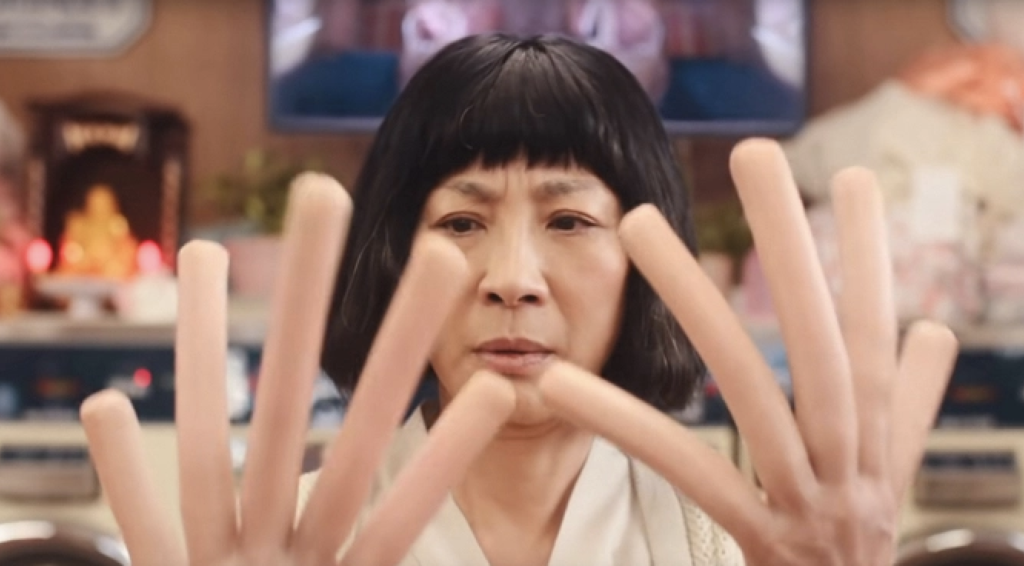 As 2022 draws to a close, the Now Playing Podcast crew looks back on their favorite movies of the year.
Brock
My favorite 2022 release I saw back in June: Everything Everywhere All at Once was full of fun, cleverness, and heart, with unexpected twists and shenanigans that you wouldn't think would work if you heard about them before you watched the movie. The film is wonderfully grounded by Michelle Yeoh, with winning turns by Jamie Lee Curtis and Stephanie Hsu, and a most welcome return of Ke Huy Quan. If you haven't yet seen Everything Everywhere All at Once don't read up on it, don't watch a trailer – go in knowing as little as possible. Strongest of recommends.
Stuart
Skewering the rich became spectator sport in 2022 – from celebrity chef Ralph Fiennes carving up snotty foodies in The Menu, to Daniel Craig investigating murder amongst disruptive frenemies in Glass Onion, to diva Jennifer Coolidge indulging elaborate cocaine and mob movie fantasies in the second season of White Lotus. Most nuanced and surprising of the bunch was Triangle of Sadness, in which the sinking of a pleasure cruise forces everyone onboard – from Woody Harrelson's Marxist yacht captain, to bickering fashion models, to raiding Somali pirates – to confront the hypocrisies of their views on love, money and survival. Swedish director Ruben Oslund has navigated these satirical waters before in early gems Force Majeure (2014) and The Square (2018), but he's created his sharpest attack on power and privilege here.  Try forgetting the image of a Russian grotesque grieving his drowned wife even as he strips her corpse of expensive jewelry. You'll want to laugh at it all… but the reality of these observations cuts too deep to be dismissed as mere comedy.
Jakob
Just when I felt assured with my jaded opinion that Hollywood has become an artless, market-driven machine that slaughters every golden goose in search for the next IP to franchise and shove slight variations of the same assembly-line produced, bland blockbuster down audiences' throats, it took India's RRR to pull me back in by reminding me how magical cinema can be. It distills everything we love from 100-plus years of film into a three-hour historical-political-action-drama-romance-comedy-romance-revenge spectacle, with a fantastic song and dance number to boot. The creativity and imagination on display is infectious and I found myself fist pumping, clapping, and standing up to cheer throughout. But I was also moved to tears and sorrow. It is as funny as it is bloody, as emotional as it is adrenalizing. The masses deserve better and RRR is the revolutionary call for a new era of entertainment.
Jason
Hands down, the most entertaining movie I've seen since last year's The Suicide Squad – maybe longer – is Top Gun: Maverick. Tom Cruise is just putting on a clinic titled "This Is What Movie Stars Do" and I am there for it. Maverick could have been the sequel where Cruise's character learns he's "too old for this s***" and gets replaced by drones or something, or they could have done a love triangle with Rooster, Phoenix, and Hangman, or they could have had a comic relief guy (Bob comes close, but the humor gets spread around), or the guy who always screws up and needs saving, or they could have done a million other lazy tropes. They didn't, and it was refreshing, because other movies would have half-assed it. Maverick gets almost everything right about lega-sequels. It embraces the nostalgia while putting a fresh spin on classic elements (dogfight football kicks ass). It raises the action stakes and makes great use of today's technology (the flight scenes are spectacular). It moves the franchise forward, as in mission accomplished and respect earned all around, but the one thing it doesn't do is set things up so that you'll want to see the next generation take over. That's because I left the theater wanting to see more Maverick, not more Rooster, and I'm good with that. This is Cruise's The Color of Money. Apologies to Wolverine, Cruise is the best there is at what he does, but what he does best is remind us why we love movie stars. A genuine crowd pleaser from the moment they fire up the anthem over the Paramount logo, I love this freakin movie.
Heath
A simple tale that is utterly devastating and brilliantly made from frame one, The Banshees of Inisherin is a stunning exploration of the disintegration of a friendship and my favourite film of 2022. Featuring superb acting from the entire cast and one of the best scripts I've seen in years, writer/director Martin McDonagh, reuniting with his In Bruges stars Colin Farrell and Brendan Gleeson, vividly evokes the story's 1923 remote Ireland setting and manages to combine some huge laughs with a dark undercurrent that underpins the story, as gruff musician Gleeson decides one day he doesn't want to be friends anymore with the affable Farrell, who stubbornly refuses to accept the fact that he's lost his best friend. It's astounding the unexpected places this story goes as it heads to an absolutely perfect conclusion. After their work in the director's films, I wish we had 200 films in which Farrell and Gleeson shared the screen together, they are simply a brilliant pairing.
Santiago
Looking back at 2022, Everything Everywhere all at Once was really close to being my favorite of the year… until I saw Aftersun. The film is deceptively simple: a father and daughter go on vacation in Turkey and in the present day the daughter looks back on the footage she shot during said holiday. But the film is a reflection on nostalgia and parental relations that feels extremely intimate. Frankie Corio does great for her age, but it's Paul Mescal who gives the best performance of 2022 and an easy win (hopefully) in the upcoming Oscar race. Director Charlotte Wells (alongside cinematographer Gregory Oke) shoots the film with warm and grainy cinematography and often conveys information about the characters through the framing of the shots alone. It all culminates in one of the best and most emotional endings I've ever seen on film. It feels like a dream and it's my favorite film of 2022. Other honorable mentions include: Everything Everywhere all at Once (second best film of the year), The Batman and Wakanda Forever (best comic book movies of the year), Top Gun: Maverick (best blockbuster of the year), Juana Banana (best Argentine film of the year) and The Rehearsal (best TV show of the year).
Chris
I know this isn't a very unique opinion, but my favorite movie of 2022 is Everything Everywhere All At Once. I had a ton of fun throughout this mash-up of action, sci-fi, and comedy. It takes the audiovisual medium of movies and expands the possibilities of what movies can do. It demonstrates how creative storytelling, editing, and production design can create a complete piece of art. It was an obvious labor of love, and I love movies that showcase the filmmakers' love so thoroughly.
The story itself is bonkers, almost as silly as the Bill and Ted movies. But the delicate interplay of camerawork and kung-fu, of references to old cinema tropes and trendy 2020s humor, of dildos and bagels, everything is a chaotic, joyous mess. I loved just letting the chaos wash over me, drown me in the theater. I don't know if I'll ever see a movie like this again. Highest recommend possible.