Snakes on a Plane
Sit back. Relax. Enjoy the fright.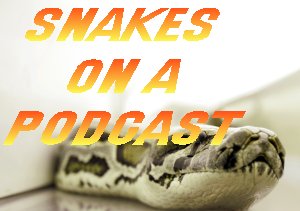 Before there was Now Playing Podcast, there was Snakes on a Podcast — a limited run show featuring interviews with Snakes on a Plane stars and team. Hosted by Marjorie & Arnie, this series looked at the Snakes on a Plane phenomenon as it happened, ending in a premiere night review of the film.
Below you can enjoy these very early podcasts!
Episode 1: Interview with Keenan Thompson
Episode 2: Interview with snake wrangler Jules Sylvester
Episode 3: Interview with director David R. Ellis
Episode 4: Interview with SAMUEL L. JACKSON
Movie Details
Series
Original Title

Snakes on a Plane

Title

Snakes on a Plane

Director

Author

—

Producer

—

Writer

—

Actors

Samuel L. Jackson, Julianna Margulies, Nathan Phillips, Kenan Thompson, Rachel Blanchard, Flex Alexander, Keith Dallas, Sunny Mabrey, Lin Shaye, Bruce James, Casey Dubois, Gerard Plunkett, Terry Chen, Elsa Pataky, Emily Holmes, Mark Houghton, David Koechner, Bobby Cannavale, Crystal Lowe, Todd Louiso, Kendall Cross, Samantha McLeod, Ann Warn Pegg, Taylor Kitsch, Kevin McNulty, Agam Darshi, Lisa Marie Caruk, Mi-Jung Lee, Lesley Aletter, Byron Lawson

Runtime

1 h 45 min

Release Date

6 August 2006

Genres

Overview

America is on the search for the murderer Eddie Kim. Sean Jones must fly to L.A. to testify in a hearing against Kim. Accompanied by FBI agent Neville Flynn, the flight receives some unexpected visitors.